Adaptors - Waveguide to Coaxial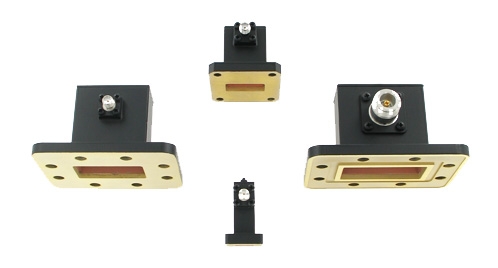 Apollo offers a complete range of precision rectangular waveguide-to-coaxial adaptors. Constructed of copper or aluminum, these units cover either the full waveguide bandwidth, or are optimized to exhibit superior performance over standard communication bandwidths.
Features
WR-22 to WR-650
Aluminum or Copper
Full or specific frequency bands
VSWR 1.10 (typical)
Connectors (M or F): N, SMA, K, TNC, 2.4mm, 3.5mm
Standard or customized flanges
90 degree or End Launch
HIGH POWER ADAPTORS
Apollo also offers a special line of High Power rectangular waveguide-to-coaxial adaptors. Constructed out of either copper or aluminum, they cover communications bandwidths where much higher power levels are required. Our designs ensure heat is transferred from the critical elements to the body of the adaptor, which acts as a heat sink, so that no overheating occurs. Custom configurations include special flanges, reduced height waveguide, extended range, and specific bands.