Switching & Combining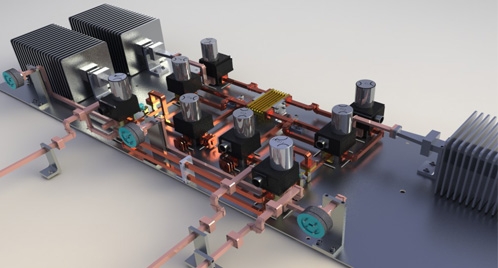 Fully customized networks, built to outperform system specifications – it's not just a dream, but exactly what Apollo delivers. Our commitment to full system level performance and satisfaction is unparalleled. System design is more than assembling building blocks – it's designing the blocks with the system as a whole in mind. By optimizing each component in each assembly within a system, Apollo is able to achieve incremental performance enhancements at each junction.
In fact, the more complex the system, the more our systems shine. Side by side comparisons of competing 16-channel redundant switching networks and frequency division multiplexers have proven that Apollo's systems outperform in return loss by as much as 6db!
Whether the requirement is a simple redundancy switch system or a complex M:N system, from L-band to Q-band, you can expect a complete solution and expert support from Apollo.
Features
Comprehensive component designs for complete parameter control
Extensive library of modular designs to conceptualize new systems
Balanced systems for equalized transponder performance
Phase combining systems offering extremely low frequency dispersion
Extremely low insertion loss and VSWR
Adjustable and re-configurable structural chassis for future modifications
Supports uplink stations with better than 3 digit reliability requirements
System design support and performance simulation
Program management with single point of contact
Unparalleled technical support before, during, and after-sales.